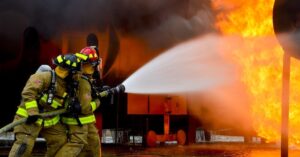 Home and business owners are responsible for their properties. The number of things that can go wrong with a property is high, and it is up to the owners to take care of any issues to maintain safety standards in the building. Leaving these problems untreated can result in significant financial losses as well as unsafe premises.
However, sometimes disaster can strike and leave owners with more questions than answers. Fire damage is a problem that many homeowners and commercial property owners are concerned about. It can be very difficult to restore structures, furniture, and possessions that have been affected by a fire.
According to the National Fire Protection Association, building fires can be caused by a number of circumstances. A house fire can easily start in the kitchen, near the dryer, or because of wiring issues. Commercial buildings can also face similar issues. When homes or businesses are destroyed by fires, it is crucial to implement a thorough restoration process to save the properties and return them to their pre-loss conditions.
Fire Damage Restoration Process
Responding to fire damage is the key to preserving your personal property or commercial investment. The steps required for the restoration of a fire-damaged house or business will give the property the best chance of a full recovery. In most cases, you will want to look for fire damage restoration services to complete the project and save the property, since you are unlikely to have the equipment and knowledge to do the job effectively.
Assessment
Before you even consider starting to repair the damage, you must assess the affected areas in need of restoration. Determine the extent of the damage by looking for smoke residue, soot, and debris. While the smoke odor may be present throughout the house or commercial interior, that doesn't necessarily mean that damage has reached all areas of the property. A professional fire damage restoration company can conduct a thorough inspection of the property to determine the extent of the damage.
Isolating the Damage
The entire house or commercial building could be at risk from further damage after a fire, especially if parts of the building are now exposed to the elements. Isolating the affected areas before you repair the damage is crucial to prevent the need for even more remodeling projects and a longer restoration timeline.
Water Extraction
Water damage often goes hand in hand with fire damage and smoke odor. Whether a sprinkler system was activated or the fire department doused the flames with a hose, there could be standing water on the premises that requires further restoration. The fire may have even damaged appliances or pipes that caused a leak. Either way, you have to remove water from your Portland property to prevent it from soaking into structural materials or possessions and ruining them. Contact water damage restoration services to tackle a job that is too big for you to handle.
Remove Soot, Ash, and Smoke Damage
Much of your property may be salvageable after the fire, it just needs some thorough cleaning and restoration. Fire damage cleanup may require specialized equipment that only restoration services have access to, so you may need to rely on professionals to remove soot and smoke residue with air scrubbers and other powerful tools.
Sanitize
The aftereffects of a fire can create a dangerous living situation in the interior spaces. Chemicals and smoke odors in the air can make it difficult to breathe or even poisonous. For this reason, sanitizing all the surfaces in the property that were affected by the fire, soot, and smoke is critical to making the space functional again after the restoration. You might be able to do some of this cleaning yourself using baking soda, bleach, and other powerful cleaning agents for the floors, walls, and other elements in the room.
Remodel
The final step in the fire damage restoration process is to complete any necessary remodeling projects. In most circumstances, your damaged property may need repairs to walls, floors, ceilings, and other structural materials to return it to its pre-loss condition. Once the cleaning is finished, the repair process can begin to replace or restore the parts of the house or business that are salvageable. Some fire damage restoration companies specialize in the reconstruction phase of the process.
Choose the Right Fire Damage Restoration Services
Taking on a project this big can be intimidating. You are also dealing with the stress of potentially having to leave the property for an extended period while cleaning occurs and repairs are made. Homeowners and owners of businesses need to make sure that they choose the right restoration services to repair the fire-damaged asset.
Pacific NW Restoration is locally owned and operates in the Portland Metro area. When you need fire/smoke restoration for your property, you can depend on your neighbors to assess the damage, conduct a thorough cleaning, and make the necessary repairs to save your house or business.
Fire/Water Damage Services
Fires can cause a wide range of damage to your property. Not only will you need fire and smoke damage restoration to clean everything thoroughly, you may also need water damage restoration services to save your investment. Even storm damage could be involved in a fire incident. Pacific NW Restoration offers all the services you may need for start-to-finish cleaning and restoration that will live up to the standards of the local fire marshal.
Very few owners are equipped to handle the repair project after fires destroy their investments. Soot is not easy to clean, and the walls and floors may be in a state of disrepair beyond your capacity to fix. Pacwest Restoration has years of experience cleaning and repairing homes and businesses with specialized equipment like ozone generators that can get the project done.
Handling Insurance
Filing an insurance claim after a fire can be stressful, and sometimes figuring out billing for the insurance company adds an unnecessary burden on your shoulders. The Insurance Information Institute has some tips for filing insurance claims after a disaster that can help. Additionally, our team will work directly with the insurance company to move through the details of the billing for your repair project so that you do not have to serve as a middleman.
Contact Pacific NW Restoration Today
When you need a complex repair project done after a devastating fire, then getting in touch with Pacific NW Restoration as quickly as possible is crucial. the longer you leave the soot and fire damage untreated, the more likely you are to experience further damage that will drain your bank account even more.
Address the problem immediately by giving us a call so that we can initiate a fast repair process to prevent further damage and implement a successful full restoration for your investment. Let us save your house or business after a bad fire with professional restoration services in the Portland Metro area.