Interior Remodeling Contractors in the Portland Area
Every home represents a blank canvas for the creativity of the homeowner. Whether you have just purchased your first property and want to make it move-in ready, have been living in the same house for 30 years and want to make some changes, or want to prep the home for sale by pumping up its resale value, home renovation projects are the perfect way to update the layout/design of the space.
In the last few years, with more people staying in the house regularly either for work or health reasons, the popularity of doing interior construction has risen. Individuals and families are making changes to their living spaces to adapt to the increasing amount of time that is spent in the house.
So what types of renovations are homeowners taking on to improve their homes?
Types of Interior Home Renovation Projects
There are almost endless great ideas for upgrading the interior of the home. Maybe it's time for new flooring in the dining room. A kitchen remodel could include updated cabinetry, new countertops, and a redesigned layout. Bathroom remodels can turn outdated bathrooms into an oasis with walk-in showers and high-quality fixtures. You may even build an addition to create more space for your family.
The Process
Remodeling can be a huge undertaking. You have to plan out the changes to be made. Materials will have to be purchased. The old layout and design will have to be removed or demolished before being updated. Then the upgrade itself will have to be done correctly.
There are many steps to completing a home remodel project and it is important to make sure that each is done well.
PacWest Restoration
When you need help from a remodeling contractor who can help with your house construction, you must go with the experts.
At PacWest Restoration, we proudly serve the area with the finest home remodeling services available. We can assist you in choosing new designs and layouts or planning a strategy to upgrade flooring, carpeting, drywall, cabinetry, countertops, and finishes. Our interior remodeling contractors take great pride in our high-quality work.
Interior Remodeling Services
The team at PacWest Restoration has decades of combined experience to bring to your home project, having served many clients in and around Portland to remodel their spaces.
Home Remodeling After Unforeseen Damages
The reality of life is that we cannot control every circumstance. Sometimes, accidents happen that cause damage to our homes and we aren't sure where to turn. PacWest Restoration is ready to do the job when your home needs to be restored after a disaster like a flood, fire, storm, or another form of water damage.
Since emergencies can happen at all hours of the day, we offer restoration services 24 hours a day, 365 days a year. When you experience damage to your home, our phone lines are open to take your call.
Home Design Assistance
Perhaps this is your first time tackling a home remodel project of this scale. You are not sure if you have a keen eye for interior design and if the planned changes will make sense for the layout of the home. Finding a contractor that can help you during this stage is important.
We offer guidance and ideas for your project to help you feel confident about your remodeling choices. Our team is full of experts who know how to use the available space efficiently and with an eye for quality aesthetics. Whether you want to have a finished basement or a brand new bathroom, you can consult with a contractor at PacWest Restoration for ideas.
Keep Your Design Remodeling Projects On Budget
Many projects tend to go off the rails in terms of staying on budget throughout the construction. This could be the result of underestimating costs, needing more materials, or things going wrong that lengthen the time required and increase labor costs.
Planning is the key to staying on budget with a design remodeling project of any size. A strategy for the entire process should be laid out ahead of time to avoid miscommunications and wrong assumptions. We specialize in planning out your home remodeling project with as much detail upfront as possible to minimize extra costs.
Keeping Your Projects On Time
Just as the budget is important to maintain, keeping a tight schedule is also important to save you time and money on the construction. Though there may be uncontrollable circumstances that cause delays, such as shipping issues, our company prioritizes staying on time to keep you within the budget.
Design remodeling can be a tricky business, but we do our best to simplify the process so that you can see results as soon as possible.
Why PacWest Restoration?
When you are searching for contractors to help you complete your home design remodel, what are you looking for? PacWest offers the tools, manpower, and expertise that you need to ensure a positive remodeling experience.
High-Quality Home Remodeling Services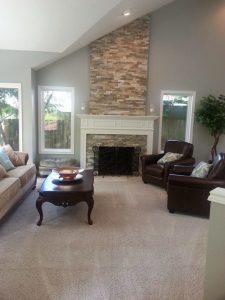 We have hundreds of clients who have been thrilled with our interior design know-how and remodeling results. From bathroom remodels to dining room overhauls to basement restorations after a storm, our work and history of 5-star reviews speak for themselves.
We Are Based Locally
Finding a contractor that fits your home design goals can be difficult. After all, the look and feel of your house should not be left to amateurs. We have proudly served Portland and the local area for years, providing convenient services to many communities in the region. Your construction project is important to do right the first time and you can trust our company to help with your home renovation.
Serving Residential and Commercial Properties
It is not just homeowners who have experienced the PacWest touch. Businesses and commercial properties are also in our wheelhouse. Finding a remodeling contractor that can be trusted with your business venture can be even more stressful than it is for a house remodel project. Fortunately, our team has plenty of experience in the world of commercial property construction as well.
Looking for a Contractor? Contact PacWest Today
No matter what the scale of your project is and whether it is for your house or business space, PacWest Restoration is the solution you need. A bathroom remodel, a dining room overhaul, a basement that needs finishing, and even an entire house project are what our design remodeling team loves to tackle. When you need help on an interior home design project, let us be your first call.
Call Now
Call today at 503-746-6545 for an estimate or more information regarding our interior home remodeling services. For some tips on interior remodeling, check out these suggestions.