FIRE DAMAGE RESTORATION SERVICES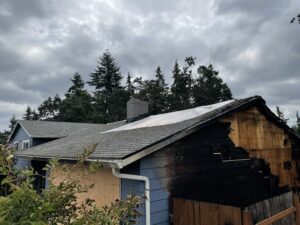 Property owners can never control every factor when it comes to risks involved with their investments. Whether you own a home or a building associated with a business, accidents can happen that will lead to significant damage to the space.
One form of damage that can be devastating for an owner to experience is fire and smoke. There are several potential causes of fire damage and smoke damage, but even the smallest incident can end up being costly depending on the areas affected.
Common Causes of Fires
A home fire or business location incident can be caused by many factors. Some causes are entirely preventable while others can be completely unlucky. Here are some of the most common.
Electrical Appliances
The misuse or malfunction of electrical appliances is one of the most common causes of fires in buildings. They can start anywhere from the living room with the entertainment center to the dining room with an old fixture to an office space with a faulty copier.
These accidents can cause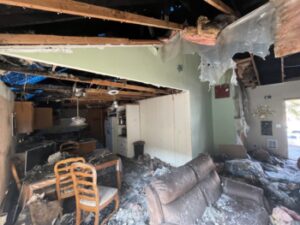 damaged materials and personal property, along with smoke residue and permanent damage to the building's structure.
Cooking
Kitchens are also an extremely common problem area, with gas or oil fires being more likely to create a need for fire restoration services. Working with extreme heat in any format creates the risk of property damage, even for commercial properties.
Unattended Candles
Candles can be a big culprit of house fires as well. If placed too close to a flammable surface and left unattended, they can quickly engulf the room in flames.
Smoking
Smoking can be a leading cause of smoke and fire damage as well, even if it is kept under control. The smoke that emits from cigarettes or cigars can affect the coloring of paint in your interiors. Plus, toxins can be absorbed by the affected surfaces and reduce the air quality.
Of course, misplaced cigarettes or other smoking materials can start a fire themselves and lead to greater property damage.
Seeking a Fire and Smoke Damage Solution
After the fire has been put out by the fire department, assessing the harm that it has caused to the structure and your possessions can be overwhelming.
What will the costs of repairing or remodeling be? How will you deal with the insurance company and find out what your coverage is? Is there hidden damage that has compromised certain structural elements?
When you are not sure how to go about restoring the property, you need to get in touch with industry professionals who can take on a fire and smoke damage restoration project.
PacWest Restoration is the Solution You Need
At PacWest Restoration, we have decades of experience in fire damage repair and fire damage restoration. We are professionally trained and certified in fire damage restoration service repairs and smoke remediation. How can we help restore your property?
Immediate Assistance
Our phone lines are open 24/7 to take your call after an emergency occurs. The best chance you have to preserve your personal belongings and the building is to speak with a trusted restoration company that can assess the structural damage in a timely manner.
When you respond quickly and initiate the entire process, repairs can get underway much sooner and preserve the affected areas.
Prevent Further Damage
Often, fire damage can cause hidden issues that are not easy to find in the building. The structure could be weakened, the framework can be compromised, and floors or ceilings could be in danger of collapse.
By calling in certified technicians from the restoration industry, you can have peace of mind knowing that they will search for all damage that needs to be repaired.
Odor Removal
Your indoor air quality has likely been affected negatively by the incident. There may be leftover toxins that were released, soot damage, and unpleasant smoke odors.
Fortunately, our cleaning services in Portland can rid the building of lingering odors to help return the air quality to its pre-loss condition.
Water Damage Restoration Services
As is often the case, fire damage occurs in tandem with water or flood damage. Either a sprinkler system may have been triggered by the incident or water was used by other parties to douse the flames. As a homeowner or business owner dealing with a significant amount of water damage after a fire, you may also need to employ water removal services.
Not dealing with the issue could compromise the structure further or lead to mold growth, in which case you would need mold remediation services. To prevent mold effectively, sufficient water extraction will have to occur after the incident. Our trained technicians offer restoration services for all of these types of issues at PacWest.
We Are With You Through the Whole Process
Our project managers believe in open and honest communication with every client for the entire duration of the project, from the first call to the final repair. Our goal is to make you completely content, cleaning every surface for optimum damage restoration, whether it comes from fire, smoke, or water damage.
Our Methods Are Proven
When it comes to structural repairs, mold removal, odor removal, flood cleanup, fire restoration, and smoke damage restoration, PacWest has no equal.
Our customers consistently leave 5-star reviews, detailing how we prioritized their needs and helped return their property to its pre-loss condition. We achieve this with the expertise of our certified technicians and an honest process.
In fact, we are so confident in our abilities that we offer a free estimate for our restoration services in Portland. We are confident that our record speaks for itself and that you will make the right decision to work with us.
Contact the PacWest Restoration Company Today
Fires can be devastating to a property. They can cause structural damage, ruined possessions, and even water damage. This means that you will need the right services to handle all of the necessary fixes such as emergency board up, smoke removal, odor elimination, mold remediation, and more.
PacWest will do whatever it takes to return your property to its normal state so that you, your family, or the people who work there can get back to business as usual. Structures will be rebuilt, indoor air quality improved, and normal functionality restored. As restoration companies go, you can't beat the customer-centric culture developed by this family-owned and operated business.
We are committed to solving all your fire damage restoration needs. If you are looking for services in Portland or the surrounding communities, call today at 503-746-6545.
EMERGENCY SERVICES
24 hours a day