Floor Remodeling and Repair Services
Floor Remodeling and Repair Services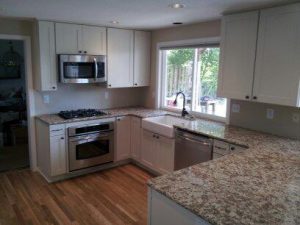 What do the flooring choices in your home say about you? Do you prefer wall-to-wall carpet installation or wood floors? Would you rather have an ornate tile design to show off or an area rug over laminate? Many homeowners in the Portland area are asking the same questions.
Making changes to your flooring can be a big home project that boosts resale value and shifts the aesthetic appeal of the interior spaces. It can also affect your family's home experience positively. So what design choices suit your personality or the tastes of the family?
Ceramic Tile
This popular choice is most commonly used in kitchens, bathrooms, and outdoor living spaces. It is a harder surface that is more durable, lowering maintenance costs and being resistant to allergen collection.
Laminate Flooring
Often having the appearance of wood without some of the structural drawbacks, this surface offers many beautiful designs. It is a very affordable choice for your floor, with simple maintenance needs. Good for kitchens, hallways, and family rooms, you can even have laminate countertops.
Hardwood Flooring
Hardwood floors are resistant to color fading, making them a long-lasting choice for your home. It is also durable, relatively easy to clean, and will fit with many style choices.
Vinyl Flooring
Vinyl is another extremely durable material. It gives you more realistic visuals and is easy to clean, but could be prone to fading. Usually, vinyl is water resistant as well and can have an easy installation process.
Carpet
If you want to go for a warm and fuzzy environment, then a wall-to-wall carpet might be the way to go. Carpet is a softer surface that has a better grip, is a safer landing spot for young children, and retains heat during the cold months.
What Does the Process Look Like?
When choosing an option for your floors, there are many factors to take into account. One of these is the removal/installation process. Putting in new floors can be a complex process, often needing an experienced hand to do the job well. Little mistakes can end up costing you money down the road for repairs, extra maintenance, or premature wear and tear.
To ensure that your new flooring is installed correctly, get in touch with experts in Portland, Oregon who understand how to remove existing flooring and replace it with your chosen materials.
PacWest Restoration Handles Flooring Installation
Relying on your own experience and skills could be risky when it comes to flooring projects for residents in the Portland area. Whether you plan to install carpet, ceramic tile, vinyl, or a wood floor, consider using our services for your project. Why go with PacWest?
Decades of Construction Experience
Our team of professionals has years of combined experience in the construction industry, and therefore brings plenty of expertise to your Portland flooring project. We are proud of our ability to achieve customer satisfaction for many of our flooring installation services.
We Can Install it All
Whatever type of flooring you desire, whether it is wood floors, carpet, laminate, or vinyl, PacWest has you covered. Installation takes a lot of experience to do well, and the condition of your floors could be compromised if an inexperienced person attempts to do the job. It could end up costing you money in the long run.
We offer residential and commercial services for Portland-based properties for the best installation.
We Repair Existing Flooring
Have water damage, wear and tear, or other factors left your floors in need of repair? Not only is PacWest a flooring installer, but we can also repair damaged flooring for your home or business in Portland, Oregon.
This service allows us to help homeowners and business owners who are worried about the condition of their investment after an incident damages the floor of their property. When you need a flooring repair, PacWest has you covered.
High-Quality Service
Since customer satisfaction is our number one priority, we are committed to providing the best service in Portland, Oregon. We do this by keeping your project on schedule and under budget. During installation or repair, we will maintain open lines of communication so nothing surprises you. If an issue comes up, we will work together to resolve it quickly so we can get the project back on track.
We understand that flooring repair or installation can be disruptive to daily life, so we target an efficient completion timeframe without sacrificing high-quality service.
Helpful Design Input
Flooring can complement the design styles of your home, but not everyone has a keen eye for aesthetic appeal. Many of our team members at PacWest are design experts who have seen it all and can offer helpful advice on what could work in your home.
Aren't sure what color carpet would match the paint choices in a room? Wondering whether tile or wood makes more sense in the kitchen? Looking for a vinyl pattern that isn't outdated? Ask your Portland, Oregon experts at PacWest for ideas.
Contact Us For All Installation and Repair Questions
The hardest part about any home improvement task is often the planning stage. How much money can you spend on the changes? What is the timeframe for when it needs to be finished? What design or materials will be used? How will your family navigate daily life during the process?
When you are struggling to answer some of these questions on your own, consider calling PacWest for a free consultation. We can help you narrow down the scope of the renovation and come up with a detailed plan together. Then, when you decide to move forward with the installation or repair of flooring, we will be there every step of the way.
Give Us a Call
Trust PacWest Restoration for all your flooring needs. We have the experience, the expertise, and the tools to exceed your expectations for your flooring goals.
Contact us today at 503-746-6545 for residential or commercial flooring installation and repairs in Portland, Oregon.
Or you can head to the contact form on our website to send in your questions.