Kitchen Remodeling Services
PORTLAND KITCHEN REMODELING SERVICES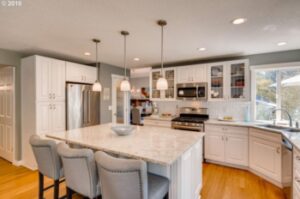 What makes a great kitchen? The answer to that may be different for every homeowner. Some may prefer a charming, cottage aesthetic with colorful finishes and classic fixtures, while others crave a more modern atmosphere with sharp lines, stainless steel machinery, and clean spaces.
No matter what your preference is, designing a dream kitchen often takes hard work and planning. The house that you moved into may not have the type of kitchen aesthetics or functionality that you would see as a paradise. Since the kitchen is one of the most important rooms in the home, now is the perfect time to consider remodeling.
What Can a Kitchen Remodel Look Like?
The short answer is…whatever you desire. A kitchen remodel can upgrade the aesthetics, make better use of square footage, replace old appliances/fixtures, brighten the space, clear up clutter, and more. To get your imagination moving, here are a few suggestions for types of changes that can level up your kitchen.
Incorporate New Style or Design Trends
Kitchen design ideas are always shifting. There are so many themes that you can adopt for this crucial room including country/rustic, cottage, shabby chic, bohemian, contemporary, or nautical. Since you and the family will likely spend a lot of time in the kitchen, creating an atmosphere that energizes everyone can enhance the experience for all. Sometimes, small changes will make a big difference to your kitchen design, such as painting cabinets or shifting the layout.
Installing New Cabinets
New cabinets will cause a dramatic shift in how your kitchen looks. Whether you choose custom cabinetry or a base style, most kitchens contain many cupboards, and wholesale changes to the material, design, and color of them will be a big upgrade.
Updating an Appliance in an Old Kitchen
The functionality innovations for modern kitchen appliances are incredible. Smart technology, Bluetooth and wifi connections, and other advances have led to some truly life-changing inventions. A new appliance will affect the aesthetics while also upgrading the capabilities of your kitchen for food and drink preparation and storage.
Switching Up the Flooring
In many cases, kitchen flooring is outdated when buyers move into the house. The tile selection may be reminiscent of a past decade, which is often the case for the bathroom as well. Laminate, hardwood, modern tile, and other flooring options can bring the kitchen as a whole into the 21st century while getting rid of potentially worn and stained older flooring.
However you choose to remodel your kitchen, it could be a massive project. You have to consider your budget, the timeframe, how to continue daily life while the kitchen is under construction, and the materials that will be used.
When you want a new kitchen, your best chance of a successful transformation is with professional kitchen remodeling services.
PacWest Kitchen Remodeling Contractors
PacWest Restoration offers professional kitchen remodeling services. Whether you want to keep your existing layout or redesign it, we can effectively make your kitchen functional and appealing.
Why Consider Kitchen Renovation Services?
There are many reasons why you might choose to hire an outside service to help with your project rather than attempt to do it yourself.
The Value
Homeowners hire a kitchen remodeling contractor to increase the marketability and value of their property. A remodeled kitchen appeals to prospective home buyers more than an outdated one.
Deterioration
Normal wear and tear can cause damage over time. A kitchen remodel eliminates the old materials and creates a new, functional, and beautiful environment.
Wanting Change
Even if a kitchen is still functional and attractive, the homeowner may want a change. Hiring us for your kitchen remodeling will ensure that your kitchen will be exactly how you envision it. Reconfiguring the layout can create much more usable space by adding counter space and more space efficiency.
Saving Energy
Adding skylights or an energy-efficient appliance to your home can reduce your utility bill and decrease environmental stress. A more functional layout can create a more efficient kitchen environment. Moving appliances and adding to counter space can also help with utility efficiency by keeping a heat-producing appliance separate from the refrigerator or another cooling appliance.
Why Choose PacWest for Kitchen Remodels?
What makes our professional team uniquely situated to take on your project and complete it to your level of expectations is our commitment to customer satisfaction. We do business in a way that positions us as the best contractors for your projects.
Expert Advice
Each member of our team understands what makes a great kitchen remodel. That is why we offer a free consultation to discuss your project goals and what would be the best way to move forward to achieve them. This allows you to bounce some ideas off of our kitchen designers. Should you choose to work with the PacWest team, you will see that we have a keen eye for design and can offer helpful ideas if you are lacking inspiration.
Thorough Process
Our project managers care about your needs and will therefore keep lines of communication open throughout the job. Completing projects is not our goal. Helping you achieve your dream kitchen is. To do so, we understand that honest and consistent communication is the most effective method to ensure a smooth process.
Great Service
We have a long history of customers in the Portland area and surrounding communities like Lake Oswego who are thrilled with their new kitchen space. Whether it involves installing kitchen cabinets, putting in new tile, knocking out a wall for more square footage, or replacing countertops, a PacWest contractor will deliver the quality you are searching for with your remodel.
Staying On Track and On Budget
Project needs will often shift during construction. To keep the cost at a reasonable level and stay on schedule, our team will work hard to communicate any delays or difficulties with you and arrive at a solution. We understand that life gets disrupted during a kitchen remodel, so our goal is to stay on track as much as possible while keeping the cost within your budget.
Contact PacWest for Help with Your Kitchen Projects
PacWest Restoration is always willing to provide expert recommendations about your kitchen remodeling needs. Our kitchen remodeling contractors have years of experience in kitchen renovation. We work with you every step of the way!
If you want kitchen cabinets to follow a new design choice, our team can handle it. If you want to increase the available space in the kitchen for your family, PacWest will do so. If you are intimidated by the scope of the project, we have the quality and the expertise to create a plan that works for you.
Call Today
The first step to upgrading your space is just a phone call away.
Contact us today at 503-746-654 to get started on your upgraded space.