PacWest Restoration and Remodeling Services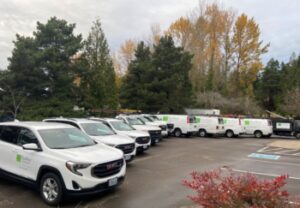 PacWest Restoration provides restoration and remodeling services for both residential and commercial property owners in the Portland area and surrounding communities.
Interiors
The condition of your property is a key aspect of your investment. Whether you own a home or commercial space, the interior must be maintained and allow for full functionality. In a home, that means a comfortable space for the family. For a business, the interior must be conducive to a productive atmosphere.
If your property has experienced water damage, fire damage, smoke damage, or storm damage, PacWest Restoration can implement cleaning services to return the space to its pre-loss condition.
If you are planning a home improvement project or commercial renovation, our team is also equipped to make the desired interior changes to flooring, layout, walls, and more.
Exteriors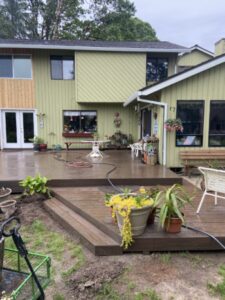 Property owners should also be concerned about the outside appearance and functionality of their investment. For homes, this helps preserve or increase curb appeal, while businesses can create a safe and welcoming environment for their teams.
If natural disasters or malfunctions cause damage to the exterior of the building, such as compromised siding or broken windows, PacWest can help with the replacement and restoration process.
When you want to upgrade the building's exterior with a new roof, new doors, updated siding, or windows, our certified contractors can get the job done.
Decks and Fencing
Moving even further out, exterior property features such as decks and fences can enhance the experience of those inside while also increasing the sale value of the building. When you need a deck or fence put in the right way, trust the professionals at PacWest for the project.
Energy Efficient Upgrades
What property owner doesn't love to save money? Energy efficient upgrades to a home or business can cut costs for the owner after an initial investment. Depending on what the renovation entails, money could be saved on utility costs throughout the year.
More efficient windows can keep the building cooler in the summers and warmer in the winters. New appliances can conserve more power to lower your bills. Certain types of flooring can retain heat better. When you want to increase the property's energy efficiency, PacWest will handle the remodeling for you.
Who We Serve
We work with many clients across Portland, Oregon, and nearby communities, serving their restoration and remodeling needs.
Homeowners
PacWest Restoration provides professional, quality property restoration services. Our experienced project managers consistently update you throughout the process and work with your insurance provider to ensure the efficient completion of the project. We strive to provide excellent customer service and the highest quality repairs and remodeling for your home.
Commercial Property Owners
PacWest Restoration also delivers professional restoration services to businesses and commercial property owners throughout the area. Our crews have experience with commercial projects of all sizes. We have experience repairing and restoring office buildings, industrial warehouses, churches, restaurants, and shopping centers. 
Portland Damage Restoration Services
PacWest Restoration's professionals offer restoration and repair services. We mitigate, clean up, and dry out residential and commercial properties. Our team is professionally trained and certified to mitigate damages and restore properties that have experienced various problems.
Water Damage Restoration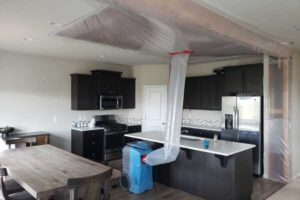 Water damage is one of the most common issues that owners deal with. It can be a result of flooding, a bad storm, a burst pipe, a backed-up sewer line, or a broken appliance.
Our cleaning services will conduct an inspection to assess the damage and implement a thorough water extraction phase to remove as much moisture as possible. Water removal is crucial to preserve the integrity of the structure and protect your possessions.
Mold Damage
When water accumulates and is left alone, it can cause the spread of mold. This often happens in spaces that are not used frequently. PacWest can assist with mold remediation and removal to prevent poor air quality and health hazards that may lead to respiratory problems.
Fire Damage Restoration
Fires are another devastating incident that can cause significant damage to a building. Structural elements like walls, floors, and building frameworks are particularly vulnerable and may become compromised even if the fire is contained quickly. When you encounter smoke and fire damage, you need restoration professionals with vast experience to find solutions and restore the space.
Storm Damage Restoration
Storms and other natural disasters can hurt a building in many ways. They could cause flooding in the basement or lower levels. Winds could send trees or other flying debris into the side of the building, damaging the exterior siding and roof.
When reconstruction is needed after a storm, our cleaning services in Portland can return homes and businesses to safe and functional environments.
How We Serve You
PacWest's remodeling and restoration services in Portland stand above the rest for a few reasons.
We believe in working hard for each customer and providing quick emergency response. For this reason, we keep our phone lines open 24 hours a day because you never know when accidents will happen.
Furthermore, our project managers are committed to open and honest communication with you throughout the project. By following this principle, we ensure that any issues that come up are addressed quickly and that you will encounter no surprises from our work.
PacWest Restoration is family owned and operated, and we carry that philosophy into our relationship with each customer. Whether you live in Lake Oswego, Forest Grove, Oregon City, or anywhere else in the region, we view you as neighbors and are happy to remodel or restore your investments.
Contact Us Today
Whether you need water removal, fire damage repair, or an interior renovation, the PacWest team is here to serve you. Our professionals are highly trained and will always seek to exceed your expectations.
Give us a call at 503-746-6545 to find out more about our services and ask any questions you may have about your project need, or visit the contact page. We would love to hear from you!