PacWest Remodeling Services
PACWEST HOME REMODELING SERVICES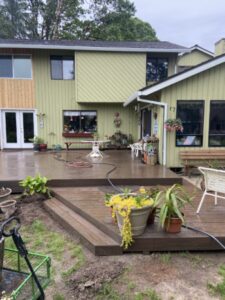 There are very few moments in life that are more exciting than purchasing your first home. You have the opportunity to completely own a space and make it what you will for the comfort and enjoyment of your family and any visitors who may stop by.
Whether you have just signed the contract or have lived in the home for 30 years, an important part of owning property is making improvements. Home remodeling projects are a huge trend in 2022, especially with people spending more time in the house than in years past. With all this extra time at home, it is easy to notice shortcomings in how you experience the space.
Why Remodel?
There are plenty of reasons to make upgrades to your home's interior or exterior. You could need a shift in functionality for changing life circumstances, such as a nursery for a new baby. Perhaps you want to design a new kitchen so that it better reflects your personality with updated fixtures, modern cabinets, and new countertops. Maybe you are planning to sell the house in the future and want to boost the resale potential.
Whatever your reasons are for pursuing home renovations, getting the job done quickly, at a reasonable cost, and correctly is very important. While the draw of doing it all yourself may be tempting, professionals are far better equipped to do the job right.
PacWest Restoration Can Help with Your Home Improvement Project
For property owners looking to enhance their property's appearance while increasing energy efficiency and overall value, home remodeling and renovations are the solutions. PacWest Restoration can help with your remodel project, whether it is your kitchen, bathroom, or flooring.  Our seasoned remodeling contractors can help with any area of your home.
What are some benefits of home remodeling?
PacWest has years of experience working with homeowners to make upgrades to their properties, helping them experience the many benefits of a home remodel.
Maintenance Cost Reduction
Home improvement projects now can save homeowners time and money down the road. Our home remodeling services help you mitigate home improvement issues before they worsen, acting as a form of preventative maintenance.
Lowering Your Energy Bills
Remodeling your house ultimately pays for itself in the long run. By replacing damaged windows and doors with efficient, well-insulated ones, you'll save money each month on your electric bills. Our remodeling contractors know what it takes to make your home as efficient as possible, and there are plenty of energy-saving features that can be incorporated into your dream home.
Boosting Resale Value
If you're considering a move, getting the best return on your investment in your home could be the deciding factor. A home renovation can boost the overall value of your home as well as its selling potential in any market. With high-quality work for a fair price, you are increasing the level of profit you will make off of this investment when you choose to sell.
Comfort and Style
Remodeling your property to your taste and style makes it more enjoyable. Though style trends and tastes change over time, we can help you craft a design that suits your family's needs and personalities. Our professional remodel team can also help create more useable living spaces or a more efficient office environment.
Home Remodeling Projects
Just as there are many reasons to tackle a home improvement project, there are many types of projects that the PacWest team can help you implement.
Bathroom Remodeling
Bathrooms are a popular location where residential owners will often seek a makeover. They are well-trafficked rooms and contain many potential maintenance issues. A bathroom remodeling project that updates the look, fixtures, shower, bath tub, or floor will have a large impact on resale potential and personal enjoyment.
Kitchen Remodeling
Those who decide to do a kitchen remodel have a lot of options. You can update the cabinetry if it is outdated. Perhaps some wall storage would free up more counter space. Stainless steel appliances are trustworthy replacements for an aging oven or refrigerator. Maybe you want to open up the kitchen to the rest of the downstairs by knocking out a wall. Achieving your dream kitchen is possible with Portland home remodeling assistance from PacWest.
Other Interior Spaces
Are you hoping for a finished basement? Is there too much carpeting throughout the home and you want to install hardwood instead? Are there walls that are in poor condition that need replacing? Is there work that could be done to freshen up the garage? Whatever room you plan to renovate inside your home, PacWest is dedicated to helping you achieve your dreams.
Roofing, Siding, and Windows/Doors
The exterior of your home is just as important, especially for curb appeal. A new roof or siding can protect your investment from the elements and insulate the interior, helping you save costs on heating or cooling practices. Properly sealed doors and windows will also help and may be the change you need to upgrade the aesthetic appeal.
The PacWest Process
In your search for remodeling companies, we believe our team is best suited to help residential owners in the Portland, Oregon area. Our company is committed to several principles that create the best customer experience for remodeling homes.
Open Communication
Throughout the entire project, we commit to being completely honest and open with you. No hidden fees, no surprises, and no unclear direction for the project will take place. We are in the business of helping people reach their goals for home remodeling, and this requires great communication.
Staying On Budget
A budget is not meant to be flexible. When the remodeling contractor agrees to a spending amount with the owner, it should be a priority to stay within that limit. Our goal is to get the job completed with as few budget changes as possible. Before a contract is signed, we will offer a free quote so that you know what you are getting into.
Staying On Schedule
Though certain delays could be inevitable due to material shipping issues, we desire to make our clients happy with the timeframe of the project. Creating a plan ahead of time is the key to staying on track.
Contact PacWest Restoration Today
Protecting a large investment, such as your home or commercial property, is incredibly important, and PacWest Restoration understands that. Our remodeling contractors complete projects with quality construction, attention to detail, and years of experience. 
Whether you are updating your kitchen, knocking out a wall, installing a bath tub for kids, getting a new floor, or completing a whole house renovation, you need a remodeling contractor from PacWest on your side. We serve many homes in the Portland area with their renovation needs and are happy to complete your project as well.
For all your construction, room renovation, and other Portland home remodeling needs, reach out to us today to get started on the process.
Call us today at 503-746-6545 for professional remodeling services.