EXTERIOR REMODELING SERVICES IN THE PORTLAND METRO AREA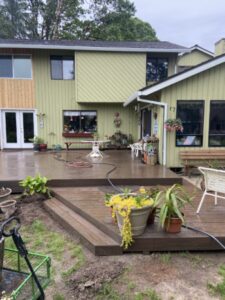 Have you, like many others in the last several years, been spending a lot more time in your home than in the past? With the rise of remote work and public health concerns, many homeowners have noticed a large spike in the amount of time that they spend at home recently.
Maybe you have been inspired by some of the most recent trends for exterior home renovations. Many individuals are hoping to make the best of their living situations by taking on home renovations. As a result, the home remodeling industry has seen rapid growth over the last several years, as DIYers and contractors alike increase their workload.
What is an Exterior Remodeling Project?
The more people look at their house, the more they might see areas of improvement, particularly on the outside. Exterior remodeling can create a whole new look for the outdoor living spaces and surfaces of the home. Maybe the house could use some new siding options. Perhaps it is time to invest in some new shutters that better accentuate the style of the exterior. A new roof could be in the cards for those that want better protection from the elements or a refreshed aesthetic appeal.
Exterior remodeling work makes a huge difference in curb appeal, which is why this type of project is important for improving the value of the home.
Tackling a Project of this Scale
For people who love to take on DIY projects, exterior renovations can be exciting. But not everyone is cut out for doing the work themselves, especially if they want it to look clean and professional. The entire process, from planning to purchasing materials to construction, could be overwhelming, and may not result in your complete satisfaction.
To get the most out of your construction project, your best option is to hire professional and fully licensed contractors who are experts at remodeling services. Since you are looking for high-quality service, you need a team who knows the remodeling business and will commit to improving your home's exterior.
PacWest Restoration Will Do Exterior Work for Your Home or Commercial Property
Serving the Portland, Oregon area for decades, PacWest Restoration has worked with many homeowners and business owners to implement their exterior remodeling ideas for quality results. Whether you need a new roof, updated siding, or windows to be replaced, you can count on hard work from our team.
But working hard is not the only reason why you should consider hiring our sub contractors. Our teams offer a wide array of services for Portland area residents and business owners.
Exterior Remodeling Services
PacWest Restoration effectively replaces and repairs siding, windows, and roofing. We not only repair damaged exteriors, but we also install new materials. Our exterior services experts keep your home protected from harsh weather and the elements, energy-efficient, and cosmetically updated.  In turn, we add value to your property and enhance curb appeal.
Roofing
At PacWest Restoration, we have an experienced team trained in roof installation and repairs. Our handyman services are top-notch, ensuring that your new roof is installed correctly and on your schedule. When you have needed repairs, we guarantee our roof repair services and quality installation.
Siding
PacWest Restoration is a trusted home exterior contractor for siding installation and repair. Whether you want to add stucco siding, wood siding, or other siding options, our team of contractors will keep your project on track and on budget.
Our goal is to save you money in the long run with an efficient installation of durable exterior products that protect your investment.
Windows
PacWest Restoration provides professional replacement services for new windows. We are a home exterior contractor with expertise in window installation and repair. Have some old windows that were not designed to open? We will install replacement windows that will allow in that fresh air that you need for better air quality.
Upgrading your home's windows has a significant impact on energy costs as well. New replacement windows, when installed properly, protect your property from the elements and help you save money by minimizing utility costs.
An Expert Home Remodeling Project Manager
Keeping a home remodeling job on schedule and on budget requires the guiding hand of a professional. For this reason, we make sure that every home renovation has a competent project manager. Their goal is to open lines of clear communication with the homeowner or business owner to ensure a quality construction process.
When DIYers take on a remodeling project themselves and don't use assistance from handyman services, they could make mistakes that end up increasing costs or compromising the integrity of the property. With the help of a professional team and project manager, the potential for harming the home's exterior or spending too much money is lowered.
We Do Interior Work Such As Bathroom Remodeling Too
Not only are we the exterior experts, but we can also help with your interior home remodeling as well. Upgrading your space with a kitchen remodel? Give us a call. Are you taking on a bathroom remodeling project? We have plenty of experience with bathroom remodeling too.
Whatever your interior project is, we have served many clients in the Portland area and surrounding communities like Lake Oswego with their home remodeling aspirations.
We Offer a Free Estimate
Since planning is the key to a successful home remodeling project, PacWest Restoration offers a free estimate to all potential clients. Before you hire our exterior services, we want you to know how much it will cost. Plus, a free consultation can give you a general idea of the scope of the project, including the potential budget and schedule.
We are a small company, so we can dedicate more of our resources to Portland homes and businesses.
Design Expertise
Many of our contractors also have a keen eye for design. So when you are unsure what type of windows will look good for your home, how the siding will affect the curb appeal, or if a new deck with a beautiful wood finish could level up the value of your house, you can ask our team for advice. We'll provide a free quote for the construction project so you can decide if the aesthetic update is worth the investment.
Reach Out to PacWest Restoration
With the home remodeling industry booming, more and more homeowners need construction company expertise to improve their home's exterior in the Portland metro area and the surrounding region.
Whether you need a window replacement, kitchen remodeling, new roofing, updated siding, or other quality products for your remodeling project, PacWest Restoration offers the services you need for the best results.
Our team is dedicated to providing you with high-quality service, keeping you under budget and on schedule with open communication and a clear plan. No matter what the scope of your exterior projects is, let us know how we can help.
Call Today
If your home or business property in Portland, Oregon needs an update, please call our exterior home services for a consultation. Not everyone has a keen eye for design and aesthetic appeal, so talk with the experts before starting your Portland remodeling project.
Call 503-746-6545 to speak with a PacWest Restoration expert today.