Bathroom Remodeling Services
PACWEST BATHROOM REMODELING SERVICES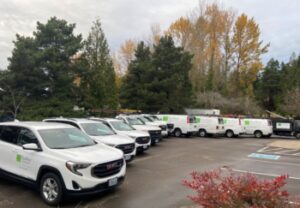 As a homeowner, making improvements to your property is a key aspect of increasing the enjoyability of the house and boosting resale value. There are so many upgrades that you can make, whether they are in the kitchen, the dining room, the basement, the hallways, or even on the exterior of the home.
One of the most important rooms in the house is the bathroom. every member of your family spends time in it throughout the day, making it a high-traffic area. The condition of the bathroom is a good indicator of how well someone takes care of their home overall.
What Can You Do With Bathroom Remodels?
If you are looking to update the bathroom to have better aesthetic appeal and/or functionality, then you need to know what possibilities exist for changes.
Add a New Bathroom
The largest type of bathroom remodel project is adding a whole new bathroom to the house. Plumbing, electrical, fixtures, available square footage, and more will have to be taken into account to ensure that the home is ready for a new bathroom to be added.
However, this change can significantly impact resale value, as the number of bathrooms is very important for families looking to purchase a home.
Expand an Existing Bathroom
Maybe your bathroom is a little too small and you simply want to expand it. Again, this will take a lot of planning to make sure that the walls you are removing are not going to damage electrical or plumbing systems, nor will they compromise the structural integrity of the build.
Expanding the square footage of the room will have a positive impact on the overall experience.
Complete Remodel
If nothing about the room pleases you, then a full bathroom remodel may be necessary. You could add heated flooring, new tubs, a rain shower, or a double vanity to your master bath. This type of renovation is very expensive but will create a whole new experience for yourself and potential buyers if you plan to sell.
Updating Certain Fixtures
On a smaller scale, you could have new fixtures installed. Many bathrooms will look completely changed with a new bathtub or a modern vanity to replace older pieces. Since a tub, shower, vanity, and toilet take up so much room, an upgrade to any of them will shift the aesthetic of the bathroom.
New Flooring
Sometimes, all a bathroom needs is a new floor. Often, you will move into the new home and realize how much you dislike the 70s look of the tile. You want an aesthetic change that better complements the look of the tub or the color of the walls.
For this remodeling project, you may need to trust a professional Portland bathroom contractor for the best results.
Tackling a Bathroom Renovation
A renovation project can be a massive undertaking depending on the scale. To complete the whole process, you have to lay out a budget, order materials or fixtures, demolish or remove the old elements, and install the new ones correctly, all while potentially losing out on access to the bathroom.
Many property owners love the idea of DIY home improvement projects, while others take a more "hands-off" approach. Whichever category you fall into, a professional contractor who does quality work may be the answer.
Portland Bathroom Remodeling Contractors from PacWest
The bath is one of the most important rooms of your home, and you can trust PacWest Restoration to make it look pristine. Whether considering a resale of your home or simply wanting to improve the space, working with residential bathroom remodeling services for your renovation is a great idea.
Why Are Residential Bathroom Remodeling Services Important?
Increase Your Bathroom's Utility – One of the main reasons homeowners book bathroom remodeling renovations is for maximum utilization. Changing layouts can make small areas feel much larger and result in a better flow to the floorplan.

Updating Your Bathroom – Interior designs and styles change over time. Updates to your bathroom like a new tub or double vanity can increase enjoyability and functionality.  PacWest is an expert in bathroom remodeling services.

Bathroom Expansion – Not all homeowners have the money or space for an additional bathroom, but a great alternative is to expand an existing one. Book our bathroom remodeling services to expand your home's bathroom.
The PacWest Restoration team can turn your residential bathroom remodeling ideas into reality. How can this Portland bathroom contractor help with your renovation?
Professional Contractors
Our team is full of highly trained and certified technicians with years of experience helping Portland residents with their bathroom renovation endeavors. With that experience comes the knowledge and expertise to do the job well, ensuring that your project is completed to the highest quality.
It may not be the wisest idea to rely on your own limited experience for a renovation as important as this. Bathroom remodels can be complex and it is easy to make drastic mistakes. It is better to get in touch with trained professionals who remodel bathrooms for many customers in Portland.
Proven Process
Our bathroom remodeling contractors have a long history of success because they follow a proven process for every customer.
Whether you are doing a complete bathroom remodel, expanding the area of an existing room, refreshing an outdated bathroom with some new fixtures, or creating a whole new space for a bathroom, a guiding hand from our contractors in Portland can guarantee success.
An Eye For Design
Before you complete your renovation, you have to decide on the aesthetics that you are going for. Maybe you do not feel confident in your ability to design an appealing bathroom. Our team has experience with the design aspects of a remodel, helping turn many bathrooms into beautiful oases for homeowners.
If you are unsure where to look for inspiration, our Portland bathroom remodeling contractors have some valuable insights for designing a room to suit your tastes, whether through tub selection, flooring choices, vanity options, or use of square footage. Feel free to bounce your bath remodel ideas off of us.
Open Communication
The best path toward customer satisfaction is open and honest communication. No matter the scale of the renovation, we will consistently update you on our progress, from the very first call to the final touches of the remodeling project.
Since home remodeling can go wrong in so many ways, our company is dedicated to keeping you informed during the process so that we can exceed your expectations.
Highest Quality Services
Whether you want a new bathtub installed, new flooring laid down, or a new shower, the PacWest Restoration company will give you the best service to fulfill all your construction needs for your bathroom.
It is our business to ensure that you are thrilled with the outcome of the bathroom remodel, and we will do whatever it takes to achieve that.
Contact PacWest Restoration to Learn More
When you decide to do a bathroom remodel, you should never settle for low-quality remodeling contractors to get the work done. Our general contractors will manage the remodeling process while keeping you informed and in the loop to make sure that your Portland bathroom looks the way you desire at the end.
To learn more about our renovation services and how our company can help you achieve your dreams for your bathroom, reach out to us for a free quote.
Call Today
Call us today at 503-746-6545 to talk about your bathroom remodeling or construction ideas, or visit our contact page and fill out the form.