Storm Damage Cleanup Services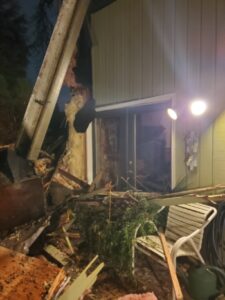 The forces of nature are completely beyond our control. When you own property, it is difficult to predict how weather disasters may impact your investment. A tornado could damage the roof or send debris flying into the exterior of the home. A bad rainstorm could cause your basement to flood or a sump pump to fail, leading to water damage. Lightning could strike nearby and harm the electrical systems of the house. If you live by a body of water, floods are possible. Falling trees are another common source of storm damage and they can cause severe damage.
How Do You Respond?
Though there are plenty of ways to stay safe in the event of extreme weather, it is impossible to prevent this type of emergency from happening.
When incidents like these occur, you may feel overwhelmed by the number of repairs that are needed to restore the home to its original state. When you need a solution after a storm or other natural disaster damages your property, the right restoration company can make all the difference.
PacWest Restoration is the Solution
Our Services
Our storm damage restoration experts are well prepared because they understand precisely what storm damage cleanup requires. We are licensed and trained to complete the restoration process properly and in a timely manner for your storm-damaged home. Our storm damage restoration crew is ready to help you out when you need it the most.
How can we help?
Wind Damage
Many severe storms such as a hurricane or tornadoes include high winds that can harm the exterior of your home with hurled debris. Whether that means roof shingles have blown off, siding is damaged, or certain elements are destroyed, our professional team can help return your property to its pre-loss condition.
Falling Trees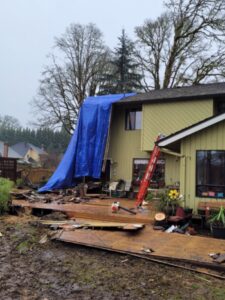 With strong winds from hurricanes, tornados, or other severe storms often come falling trees. Depending on the size, a tree can cause significant damage to a building when it is blown over in a storm. The necessary repairs may be extensive, and you should only trust the best team to restore your home.
Standing Water
Flood damage is a very real prospect for homeowners after a bad storm. The excessive amount of rain could seep into the lower levels of the building and potentially cause a sump pump failure. when a severe storm leaves accumulated water on your property, you must respond quickly to avoid long-term water damage.
Water Removal
PacWest has the equipment and knowledge necessary to remove water effectively from your home to prevent further damage to the structure of the building and your possessions.
Fire Damage Restoration
Lightning storms can often cause electrical issues that lead to fires. When this is the case, you may be dealing with smoke damage, poor air quality, and increased danger to your family. Fire can destroy structural elements of the home like wood, some of which may not be obvious to the naked eye. This could lead to a future collapse that could harm a person in the building.
In the aftermath of the fire, you should immediately contact PacWest to repair this type of damage.
Why PacWest?
Our team follows certain principles and practices to ensure a positive experience for all our customers. We believe that the culture we have fostered leads to better results and happier clients.
We Are Experts at Restoring Properties
With decades of experience restoring damaged properties after severe storms and other weather events, our record speaks for itself. Previous clients consistently reward our services with 5-star reviews, excited about our ability to restore their homes to a normal state.
Convenient Location
Our customers in the Pacific Northwest matter to us because they are our neighbors. When we help a homeowner with repairs after a disaster, we feel that we are serving the community as a whole. We seek to offer immediate help to those who are in need of property restoration after a hurricane, hail storm, wind damage, or another disaster.
24/7 Availability
Storm damage is unpredictable and can happen at all hours of the day or night. That is why you can call our emergency services at any time and we will pick up the phone. In many cases, the ability to respond quickly could save thousands of dollars of damage. Even if the home is fully insured your insurance company can cover the expenses, it is better to cut costs and restore your home quickly. Otherwise, long-term damage could result.
We Help Protect Your Investment
Losing money because of a severe storm is devastating. Whether you are discouraged because of hail damage to the roof, a flood in the basement, or wind damage to the siding, your property is a big investment. Our goal is to protect that investment by making your life easier with a thorough restoration process.
We even offer free estimates so that you understand upfront what the cost of services will be. This will give you time to check your insurance policy to determine what the overall out-of-pocket expenses will entail if any.
Your Restoration Company Search Starts and Ends with PacWest
Our restoration services team has the resources, the equipment, the expertise, and the convenient location nearby to handle your damage restoration project after a disaster. When you need someone to repair hail, hurricane, tornado, lightning, falling tree, or flood damage, search no further than PacWest Restoration.
We will give you a free estimate before committing, assess the issues, and implement the storm damage restoration process for your home.
Contact Us Now
If you have questions about our storm damage restoration services, your location, insurance issues, or anything else, feel free to contact us whenever it is convenient for you.
Call us for emergency storm cleanup services at 503-746-6545, or visit the contact page to submit a form with your questions. We are available 24 hours a day, 365 days a year.