How Much Does Water Damage Mitigation Cost?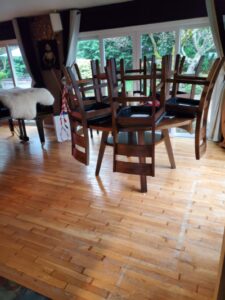 It could be one of the worst nightmares for a homeowner or other property owner to experience. The sound of trickling water when nothing is running. Or noticing a discoloration from a water stain for the first time on the ceiling. Or walking down to the basement with your foot landing in a puddle on the final step. You have water damage on your property.
Water damage is one of the most common maintenance issues that property owners face. There are many potential causes, including sewage backups, a leaky roof, ice dams on the roof, a burst pipe, leaky toilet tanks, broken washing machines, leaky faucets, a river flood, or another natural disaster. All of these circumstances could lead to standing water or excess moisture accumulation in the building that poses a serious risk to the property and everyone in it.
The Risks of Water Damage
There are quite a few hazards that can result from water damage occurring on your property. Your priority should always be addressing the problem quickly to prevent these issues from worsening over time.
Mold Growth
Mold is a big issue when water damage occurs because it thrives in dark, damp environments. This makes it harder to spot unless you know where to look. Mold growth negatively affects the air quality in the building, releasing harmful contaminants into the air that people can breathe in, causing multiple health risks.
Porous Building Materials Are Compromised
Drywall, wood framing, and other porous materials used in your property are susceptible to warping and rotting if exposed to water for a long period. This will result in severe structural damage, especially if left alone. The floor of an entire room could collapse if there is water damage to the floorboards underneath it.
What Affects Water Damage Restoration Cost?
Once you have identified that there is water damage on your property, the next step is to figure out how to fix it. For a very small leak that causes minimal damage, you can probably handle the repairs yourself, but if this is not the case, you will need professionals to do the job. Several factors will affect the cost of repairing water damage in your building.
Damage Per Square Foot
The size of the affected area plays a big part in determining the price to extract the water and make repairs. If only a small room is damaged, the cost will be lower. But if an entire basement has flooded, then that rate will climb exponentially. Extracting moisture from flooring or drywall is often priced on a per-square-foot basis, ranging from $3 to $7 depending on the material.
Labor Costs
The longer the repair job takes, the more money it will cost. Just like most services, especially contracting jobs, you will have to pay based on the time that it takes to complete the restoration process. In many cases, people ask "will insurance cover water damage repair services?" It depends on the source of the damages, your policy details, and the size of the job. Costs vary depending on how long it will take to make the repairs needed.
Condition of the Water
If the damage that occurred was caused by clean water, then the price may be a little lower than if the water contained chemical or fecal matter, which is known as black water. Gray water is slightly more contaminated than clean water, but can usually be filtered relatively easily. For black water, additional disinfecting and cleaning services would be required to return the property to its original state.
Remodeling and Other Additional Costs
Full remediation services include not just water extraction but also repairs and remodeling. This could include drywall repair, ceiling repairs, floorboard restoration, and more. These expenses will factor into the final cost as well.
Average Water Damage Restoration Costs
Across the country, the national range for water damage restoration costs is between $1,200 and $5,000, with an average overall cost of $3,000. Of course, this number can vary wildly, with projects costing as little as $350 or as much as $50,000. It all depends on the level of damage and the quality of the restoration services you employ. Homeowners' insurance may be able to cover the total cost, but that will depend on your policy. When the scale of the water damage restoration project is too large, then you will need to look for help from a professional service.
Why You Should Let Water Damage Restoration Companies Handle the Project
Choosing to work with a Portland water damage restoration company will provide many benefits as opposed to tackling the project yourself.
Certified Professionals
When the damage is severe, only a licensed professional can repair related damage effectively after a disaster occurs. This person has earned their restoration certification and is, therefore, more equipped to handle the extraction, drying, cleaning, and repairing that your property needs. Efficient water restoration work is needed to prevent water damage from destroying your investment and costing you thousands in the future.
Better Equipment
With the average cost of these services being a major hit to your wallet, you want to make sure you are getting the best bang for your buck. A water damage restoration service uses high-powered equipment to efficiently extract all moisture from the property, dry out building materials, and restore the affected area to prevent further damage.
Versatile Services
Whether you have a leaking roof with missing shingles, need to repair water-damaged drywall, are dealing with burst pipes, or need mold remediation, a professional service can fulfill every need. They can help you deal with the effects of a water leak and enact structural repairs so that your property is returned to its pre-incident condition. Professional restoration efforts will clean up contaminated groundwater, repair broken bathroom fixtures, provide a qualified mold remediation crew, and deal with insurance claim management.
A Water Damage Restoration Company Can Save You Money
If you are intimidated by the cost to repair water damage, then consider the long-term effects if you make a poor attempt to fix it yourself or do not address the problem at all. The entire structure of the building could be compromised and lead to far more expensive repairs down the road. Though the typical restoration costs may seem like a lot, your insurance company will likely cover at least a portion of it and you will never regret addressing the issue right away.