What to do When Your Basement Floods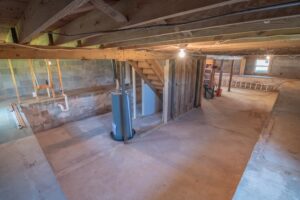 When you have invested in something as costly as a home, it is normal to feel stress when its condition is compromised. Not only will you worry about having to put more money into maintenance and repairs, but it is a space that is supposed to give you comfort and security. This characteristic can be missing when you are worried about spending large chunks of money on maintenance.
One of the biggest fears that you may face is dealing with water damage. A burst pipe, heavy rain, failing sump pump, broken water heater, or leaking washing machine could all result in a flooded basement, causing severe damage to your possessions and the structure of the house. Knowing what to do when your basement floods could make all the difference between a quick restoration and a full remodeling project.
Basement Flood Prevention Tips
There are a few ways to prevent basement flooding that could save your property and your bank account. Keep gutters clear so that water drains properly when it rains. Prevent future flooding by purchasing sump pumps. Make sure appliances located in the basement receive regular maintenance. Is there a drain somewhere in the house? Keep it clear of debris. Prevent damage from basement flooding by maintaining the drainage and plumbing systems in your home.
The more flood-proof you can make your basement, the better off your property will be in the event of water damage.
A Guide to Dealing with a Flooded Basement
Though the basement of your home may be one of the least used areas in the house, it is still a critical component of the building and needs to be protected in the event of water damage. The following steps will give you the best chance of preventing further damage and restoring the property to its pre-loss condition.
Locate the Water Source
When your basement floods, the first step is to figure out what is causing it. Is the floor drain clogged? Are there burst pipes somewhere that are leaking into the basement? Is the washing machine broken? Is there a sewer backup? Are your sump pumps failing to keep up after rain has seeped into the ground? Understanding what caused the flood is important.
If possible, safely turn off the water supply line responsible for the leak. This could be a valve located somewhere along the piping in the basement, or even the main shutoff valve if the leak is severe. Stopping more water from flooding the basement is critical.
Determine the Extent of the Damage
Basement flooding can cause a lot of problems with the structure of the home and possessions in the room. Standing water can be absorbed by various materials, making it a difficult process to determine how far the damage extends. Some equipment can help, such as thermal technology or moisture meters. After the water damage restoration process is complete, if any excess water has been left behind, your property could suffer even more consequences.
You should also be aware of safety practices when exploring the basement. If electronic devices such as the circuit breaker or electrical outlets are near water, it could result in an electrical shock. Wear protective equipment as you inspect the damage to your flooded basement.
Begin Water Extraction
Extracting water after a basement flood occurs is the next step. You can use a backup sump pump, a manual pump, a wet vacuum, a shop vacuum, or other pieces of equipment that can assist with water removal. If you have a pool pump, that could help as well. The key is to act quickly to get as much water out of the affected area as possible. The longer you wait to begin the restoration process, the more at-risk your basement walls, floors, and possessions are.
Dry Out Everything You Can Find
After you remove the water that has collected, it is time to dry out everything that has gotten wet. If possible, remove all wet items from the room and bring them outside to air-dry. This will pull excess moisture out of the room and speed up the drying process. For the materials that you cannot remove, use air movers or large fans to increase air circulation. Open any windows or doors that you can. The more air is moving in your basement, the faster the evaporation process can occur.
With an evaporation plan in progress, moisture will become water vapor in the air. Plug in a few dehumidifiers to pull this water out of the air.
Clean and Disinfect
Most flooded basements will need a thorough cleanup process after everything is dried. Depending on if the flood contained clean water or contaminated water, there could be debris and harmful chemicals left behind. Disinfect all affected surfaces and remove the debris that remains.
Repair and Remodel
If the flooding was severe enough, you may have maintained structural damage in the flooded area. The home's foundation could be compromised, the basement floor may have absorbed too much water, and the drywall could begin to rot. Replacing critical materials may be necessary, in which case you will have to remodel or repair these elements.
Get in Touch With Experts After a Basement Flood Damages Your Home
Your best course of action may be to contact a Portland water damage restoration company that can handle your basement flooding repair needs. There are multiple benefits to making this decision.
Better Equipment
Restoration services can bring high-quality equipment to address your flooded basement, and these tools are often far more effective than your average sump pump. Flooded basement cleanup is very complex, and having the right tools to extract every drop of moisture and dry out your possessions thoroughly is the key to protecting your home and belongings.
High Levels of Expertise
Flood damage can leave you with lots of questions. These professionals can answer those questions with their expertise. Water cleanup will be efficient because they know what to look for and how to do what you cannot. Restoration specialists can remove mold, save your wet carpet, extract standing water, and remove water from hard-to-reach spaces.
Can Be Covered By Insurance
If you have homeowners insurance, then the cost of restoration when your basement is flooded may be covered, depending on your flood insurance policy. It is better to trust professionals to handle the project to ensure it is done correctly, especially if your insurance company includes enough coverage for the work.
Put Your Trust in Professionals for Flooded Basement Cleanup
When a burst pipe, broken appliance, or natural disaster leaves your basement underwater, you need to respond as soon as possible to protect the property, yourself, and your family members from a dangerous situation. Mold growth could lower the air quality and cause respiratory problems. Structural damage could lead to rot or a floor collapse. Wet cardboard boxes used for storage could also develop mold.
Most homeowners rely on restoration specialists to handle severe water damage to their basements, and so should you.