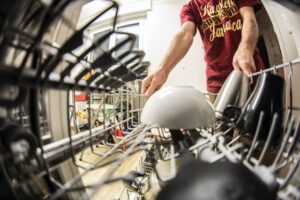 Homeowners have a lot to worry about when you take a moment to think about it. They invested a lot of money to purchase the property, and there are tons of issues that could result in more money being spent on maintenance or repairs. One of the biggest enemies of any property owner is water damage.
Water damage is a very common occurrence for both homeowners and commercial property owners. Buildings have extensive plumbing, multiple water-based appliances, bathroom/kitchen fixtures, and water heaters that can all lead to a water leak indoors.
You could experience pipe bursts, sump pump failure, appliance damage that causes a leak, flood damage, roof leaks, or even clogged drains. One other potential cause of water damage that is very common could be a broken or leaking dishwasher.
Water Damage from Dishwasher Leaks
When a dishwasher overflows, malfunctions, or breaks, it can cause water to spill into your kitchen. This type of water damage can harm your kitchen floor, walls, drywall, nearby carpeting, appliances, cabinetry, and other possessions. Though the resulting spill could contain bacteria from food particles or dish detergent, it is probably considered grey water, and therefore not extremely toxic. It would be wise to wear protective gear like gloves when cleaning it up to prevent any infections.
Does Your Homeowners Insurance Policy Cover the Damage?
In most cases, the answer is yes. Your insurance company will likely pay for the cost of repairs and restoration for the damage that was caused by water leaks from the dishwasher. However, there are a few things you need to know that may affect the status of your insurance claim.
Was There Negligence Involved?
If a dishwasher malfunctions unexpectedly, then the claims process will probably go smoothly for you. However, if you failed to perform proper and necessary maintenance on the appliance, then your insurance claim can fail.
\You have a responsibility to maintain the integrity of the appliance, so if it breaks and causes water damage because you failed to keep it functioning properly, then insurance may not pay out.
Your Insurance Company Won't Cover the Dishwasher Itself
A standard homeowners insurance policy will cover the water damage that results if a dishwasher breaks. But the policy will not cover the cost of repairing the appliance or replacing it.
Your best chance for this type of coverage is a warranty card for the appliance itself or the home. Just know that only water damage costs may be covered by your insurance company.
What Does Homeowners Insurance Cover with Water Damage?
A homeowners policy will not cover every type of water damage. For example, floods are a different category that would require a flood insurance policy to be covered. Just because you have a flooded basement does not mean that it will be covered by a standard policy.
It will depend on the cause of the damage. A broken pipe may be covered, but if your negligence led to frozen pipes bursting because you didn't heat your home thoroughly, you may not have a successful claim.
The smartest thing to do is call an insurance agent from your carrier to check and see if the water damage you have suffered is covered by the homeowner's policy you own.
What to do When You Experience Water Damage
No matter the cause of the issue or the extent of the problem, priority number one is always mitigating further damage. For this reason, you need to act quickly and effectively to respond to the water damage and prevent more damage from occurring.
Locate the Source
Finding the source of the leak and turning it off is the first step. You want to prevent more water from collecting, so if it is possible and safe to do so, find the water line that supplies the source of the leak and shut it off. This will allow you to start thinking about the drying process.
Water Extraction
First of all, safety matters, so before you start extracting water from the property, wear proper protective gear and shut off electricity in the wet area. The last thing you want is to start a fire or receive an electrical shock.
Then, you want to enact an efficient water extraction plan. You can do this using a sump pump, a manual pump, or wet vacuums to pull as much standing water out of the affected area as possible to prevent structural damage and mold growth.
Evaporation and Drying
Next, you want to dry out the materials that have gotten wet. If possible, remove items from the room to air dry outside or somewhere else. The less moisture that is in the room, the faster it can dry out. Open windows and use large air movers or fans to get good circulation. Moving air can pull water out of the materials and into the air as water vapor. Then, use dehumidifiers to get the moisture out of the air.
Cleaning and Sanitation
Depending on what type of water damage occurred, there may be surfaces that are affected by bacteria or toxic contaminants. You will need to scrub these surfaces with either a soap solution and warm water or a bleach solution for more severe contaminations. This process can help eliminate unsafe substances and unappealing odors from the area.
Seek Professional Restoration Services
When you experience significant water damage caused by a dishwasher leak or any other issue that spills water into your home, your first step should be to call a Portland water damage restoration company.
Powerful Equipment and Expertise
Whether or not the damage is considered a covered peril by your home insurance, you need to make sure that the restoration process is done correctly. Professional services have better equipment and years of experience to deal with water damage in your home. If you want the project handled correctly so that your home is restored to its pre-loss condition, then you should trust experts rather than yourself.
Homeowner's Insurance Could Cover the Costs
In many cases, your homeowner's insurance policy will cover the cost of water damage repair in your home. Some scenarios may not fall under this umbrella of coverage, but flood insurance or renters insurance may cover the water damage you are facing. If this is the case, why wouldn't you take advantage by having your insurance company pay for professionals to do the work?
Don't let stubbornness get in the way of an efficient restoration. Call the specialists to handle the job so that you can get your home back to its original condition.